The government is now offering up to £10,906 in loans to English master's students looking to study at a UK university. But are you eligible for the loan?
Unsurprisingly, the Postgraduate Loan (also known as the Master's Loan) comes with its fair share of small print that can be hard to get your head around at first.
There's a lot of info to take in, but luckily we've done the hard work for you by simmering it all down to the cold hard facts.
So, if you're considering doing a master's degree now or in the future, read on to find out exactly what's on offer, and whether the loan is right for you.
Who's eligible for the Postgraduate Student Loan?
As with anything that involves the government parting with money, working out if you're eligible can be pretty complicated!
We've tried to keep things simple, so if you can answer 'yes' to all seven questions below, you'll most likely be accepted for the loan:
Are you a UK citizen who has been living in the UK for the past three years or more (so you haven't been living abroad anywhere during this time)?
Do you 'normally' live in England (not just for the purpose of studying)?
Are you under the age of 60?
Is this your first master's or equivalent degree (not including postgraduate diplomas or PGCEs)?
Are you applying for a full Master's course (as opposed a graduate diploma or equivalent)?
Are you applying to study at a UK university (whether in England, Scotland, Wales or Northern Ireland)?
Are you up to date with your existing Student Loan repayments?
Note that there are some exceptions to these rules, so it's always worth getting in touch with Student Finance England to double check your eligibility. For instance, if you previously received a Master's Loan but dropped out of your course due to illness, you'd still be eligible a second time around.
There are also several additional conditions on which your application will be judged – we've just kept it simple by including the main criteria. Check the full details here.
Can EU students get the Postgraduate Student Loan?
If you're not a UK citizen but you are an EU citizen, the current terms are:
How much does a master's degree cost?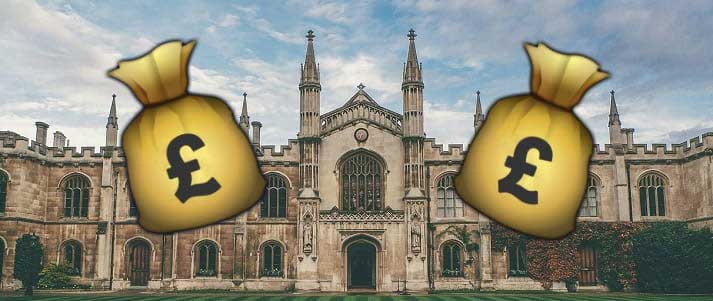 The cost of master's courses in the UK varies depending on the type of course and university. Remember, master's can be taught or research-based, and that's before you even consider the different costs associated with different subjects and universities.
Master's degrees can cost as little as £4,900/year to well over £30,000, and it's these huge outliers that mean the average cost (according to UCAS) is about £11,000/year – a tad more than the maximum loan amount.
However, it's worth noting that this financial support isn't just a Tuition Fee Loan – it's a Maintenance Loan too (to help cover living costs). Don't just look at the amount available and think "oh, it covers my tuition, that's great" – you'll want to have some left over to live on, too!
To find out exactly how much your course costs, check out your university's website.

How big a Postgraduate Loan can you get?
How much you can apply for depends on when your course started. Crucially, unlike with undergraduate loans, Postgraduate Student Loans are not based on your household income!
It's also worth noting that no matter how long you're studying for, you'll still only be entitled to the set maximum amount – you'll just have to split it across multiple years rather than one.

How is the Master's Loan paid?
The loan money is paid directly to you and will be paid into your bank account in three instalments each year (in the form 33%, 33%, and 34%). As outlined above, if you're studying for two to four years, your total loan will be evenly split between each year of study.
You're free to spend the Postgraduate Loan however you see fit, but remember that it's meant to act as a Tuition Fee Loan and a Maintenance Loan.
You might have some spare cash left over after paying your tuition fees, which could then be put towards rent or course materials that you might need. On the other hand, your course could cost more than your total loan, in which case you'd have to fund the difference yourself.
If you borrow less than the maximum amount, you can increase the loan amount during your course. We would advise borrowing the full amount if you can, as it's unlikely that you'll get a loan with more generous repayment terms from anywhere else in the near future.
If you're worried you'll spend it all too quickly, why not put any leftover cash into a student savings account and watch it grow until you need it?
It's also worth knowing that the money isn't means-tested – how much you, your partner or your parents earn won't affect how much you can borrow.
Paying your master's degree tuition fees
If you're worried about your loan instalments coming too late for you to pay your tuition fees – don't!
Have a chat with your university and arrange to pay your tuition fees in line with when you receive your loan instalments, rather than having to pay up front.
Will a Postgraduate Loan affect your benefits?
It is possible that the loan could affect any benefits you receive from the government, as the Master's Loan will be considered a form of income (we guess since you're allowed to spend the money as you choose, and it doesn't go directly to universities).
If you do receive any financial support form the government and wish to continue receiving it whilst you do your master's, it's worth speaking to someone at the DWP (Department for Work and Pensions) about your situation before you apply.

Repaying your Postgraduate Student Loan
Just like the undergraduate repayments, the Postgraduate Loan repayment terms are actually pretty generous. Here's a quick rundown of the main talking points:
You'll only start repaying the Master's Loan in the first April after you graduate, and even then you must be earning more than £21,000 a year. Check out this table for a rough guide to how much you can expect to repay each month
The thresholds track monthly or weekly income, not just how much you make in a year. You could earn the monthly equivalent of a £21,000 annual salary one month and have to make a repayment, but earn less the next month and not make a repayment
Repayments are taken automatically from your salary (if you work for yourself it'll happen through self-assessment)
The first £21,000 of your income is shielded from loan repayments. You then repay 6% on anything you earn above that
Income doesn't just mean salary: some bank account interest and benefits could push you over the threshold. Arm yourself with the tax facts to see where you stand (and avoid over-paying!)
Your loan starts gaining interest from the day you take it out until the day you clear the balance (so you'll owe more than you actually borrow). Interest is charged at RPI plus 3% and is updated every September using the RPI rate from March of the same year, meaning the current rate is 6.3%. We explain the deal with interest in our guide to Student Loan repayments, so head there to find out more!
As with the undergraduate Student Loan, the Master's Student Loan is not registered on your credit file – meaning it won't affect your credit rating
The loan is written off after 30 years, regardless of how much or how little you've repaid. Whether you repay the whole lot depends on how much you go on to earn.
Master's loan repayments operate differently to undergraduate student loan repayments, and if you're unsure how yours work, check out our guide to understanding your Student Loan repayments!
What if you already have a Student Loan?
You can still apply for the Master's Loan if you already have an undergraduate loan to pay off – but it's worth knowing that you will have to start making repayments on both at the same time (although both will be treated as separate loans and will not be joined together at any point).
Once you meet the salary threshold, you'll pay 9% on anything above that to your regular Student Loan, plus 6% towards your Postgraduate Student Loan. However, as the undergraduate threshold is slightly higher than the postgraduate one (£25,725 as opposed to £21,000), there is a bit of a buffer between the two.
Here's a rough idea of what your monthly repayments may be on the postgrad and/or student loan (note that this table assumes you have a plan 2 undergraduate loan – use our guide to find out which Student Loan plan you're on):
Monthly postgraduate and undergraduate Student Loan repayments
Unfortunately, loan repayments don't give you any tax breaks. Any income tax you owe is calculated on your salary before any student loan repayments come out – postgraduate or undergraduate.

How do you apply for the Master's Student Loan?
If you already have an account with Student Finance England (you'll have one if you got your undergraduate loan from them), you can apply online here.
If you don't already have an SFE account, you can set one up now and follow the application instructions on their site to get started.
If you'd rather do it the old-school way, you can download an application form to fill out and send to the SFE by post – download it here.
Postgraduate Loan application deadlines
Student Finance England are now accepting applications for master's courses starting in Autumn 2019, and the deadline is (as it always has been) nine months after the start date of your course.
Course start dates are banded into four groups, and you can find out when the 'official' start date of your course is using the table above.

Is the postgraduate master's loan a good deal?
If you don't happen to have a spare £10k lying about to pay for tuition, the Master's Loan is a great door-opener as it makes it easier to study without having to slap down tons of money up front.
In fact, when the loan was introduced in 2016, our National Student Money Survey from that year found that 52% of students were more likely to study for a master's following the introduction of financial support.
The big criticism of the Postgraduate Loan is that even the maximum amount may not be enough to cover some course fees, let alone living expenses – you might need make money in other ways as well to keep you going.
You'll also want to give some thought to the repayments scenario: you could find you don't earn enough to pay the whole loan back (which sounds like a win, right?). However, even temporarily earning enough to make repayments will affect your monthly take-home pay.
As your salary goes up (which is likely over time) and you fancy doing other things with the money – like getting a mortgage, for example – you'll also be paying more towards your loan. Definitely worth thinking about!
Will the government change the terms of your Master's Student Loan?
The government can (and will!) change the terms of Student Loans at any point – as they did in 2017, though this was at least a largely positive change.
This means it's not completely impossible for the repayment percentages to get a lot worse, or that the repayment threshold could decrease at some point (although given the recent undergraduate loan changes, it's more likely to increase first).
However, despite some horrendous changes certainly being possible, it's ultimately pretty unlikely. If anything does change, it should be minimal!

Are there alternatives to the Postgraduate Loan?
Perhaps more so than at undergraduate level, there are plenty of schemes out there to fund your master's studies for you. Some will fund your tuition and your living costs, while others may just cover your tuition – and usually the funding doesn't have to be repaid. The money often comes from charitable organisations, or companies who'll offer you a job afterwards.
Head to The Scholarship Hub to see if there's a bursary, scholarship or grant that will fund your postgraduate degree for you!
Your other options include 0% credit cards (be careful here!) and commercial loans, but neither of these will offer repayment terms as generous as the Postgraduate Loan (a 0% credit card technically does if you're able to repay within the interest-free period, but this is unlikely!).
Bonus tip: It's also worth noting that some countries in the EU offer heavily subsidised or even free Master's degrees to EU citizens (whilst we're still part of the EU, that is). Check out our top five cities in Europe where you can do a Master's for free, and maybe sneak in before Brexit?
Looking for even more info? Check out our Big Fat Guide to Student Finance!